Inked Hearts 2022: Heart of the Dragon
April 21 @ 11:00 am

-

April 24 @ 6:00 pm
Schedule your session with world class artists!
Hosted by Ted & Amy Marks from NorCal Tattoos, Inked Hearts returns this spring!
This is an all ages event
16+ for piercings
18+ for tattoos
Best of contests held daily and best of show announced on Sunday
Follow Inked Hearts on Facebook or Instagram for attending artists!
*All tickets from the cancelled Summer Inked Hearts Expo have already been transferred to this event and are valid for the same day of the week of the original purchase. Two day passes have been transferred to 4 day passes. Please email with any questions.*
Expo Hours:
Thursday, April 21st, 2022 11am to 10pm
Friday, April 22nd, 2022 11am to 10pm
Saturday, April 23rd, 2022 11am to 10pm
Sunday, April 24th, 2022 11am to 6 pm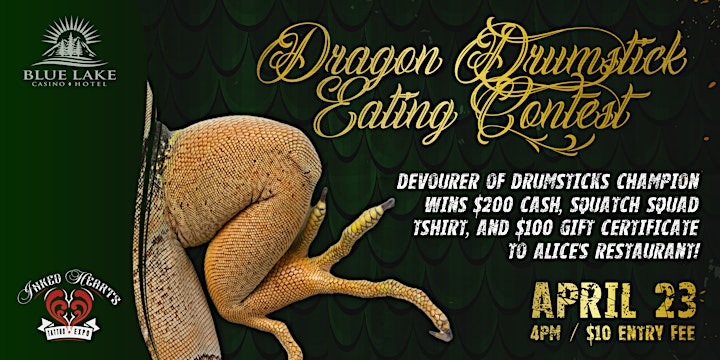 Whoever eats their turkey legs the fastest will become…THE DEVOURER OF DRUMSTICKS!
Join us at the 12th Annual Inked Hearts Tattoo Expo on Saturday, April 23rd for a contest of epic proportions! Contestants will be challenged to eat two large turkey legs in the fastest amount of time.
Winner will receive:
$200 cash + Squatch Squad tshirt + $100 gift certificate to Alice's Restaurant
Please visit Dragon Drumstick Eating Contest for official rules and details.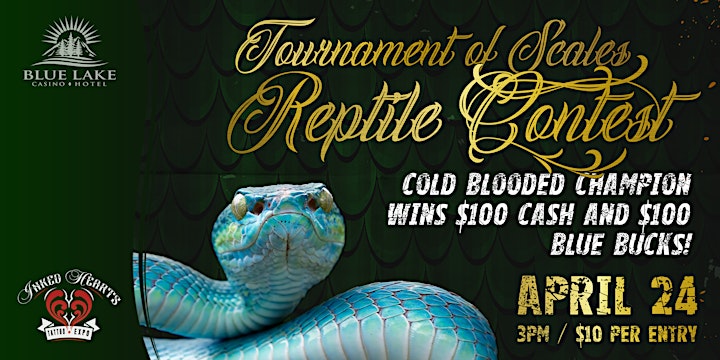 Inked Hearts Tattoo Expo & Blue Lake Casino Hotel proudly presents The Tournament of Scales!
Join us at the 12th Annual Inked Hearts Tattoo Expo on Sunday, April 24rd with your scaly friend to compete in a battle of bravery, skill, and cuteness ! Reptile contestants will be judged by our expert panel in the categories of personality, colorfulness, presentation, entertainment value, and audience reception! The winner of the Tournament of Scales will be deemed:
THE COLD BLOODED CHAMPION!
Winner will receive:$100 CASH + $100 BLUE BUCKS+ The official Inked Hearts 2022 Cold Blooded Champion trophy
Go to Tournament of Scales for details.
Related Events