One Nation Under A Groove Tour
August 20 @ 6:30 pm

-

11:00 pm
George Clinton's Farewell Tour with Parliament Funkadelic
At our outdoor venue!
With opener, Object Heavy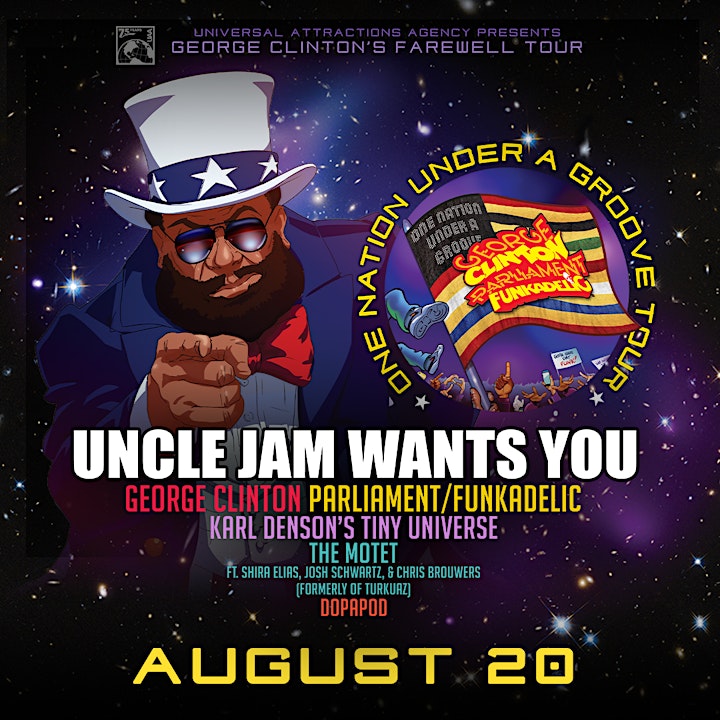 Only 100 VIP tickets available!
On sale March 25th at 1pm
VIP Ticket includes:
• Early entry into the venue
• Specially designed tour t-shirt
• Limited edition George Clinton challenger coin
• Exclusive VIP merchandise item
• Commemorative VIP laminate
George Clinton & Parliament Funkadelic: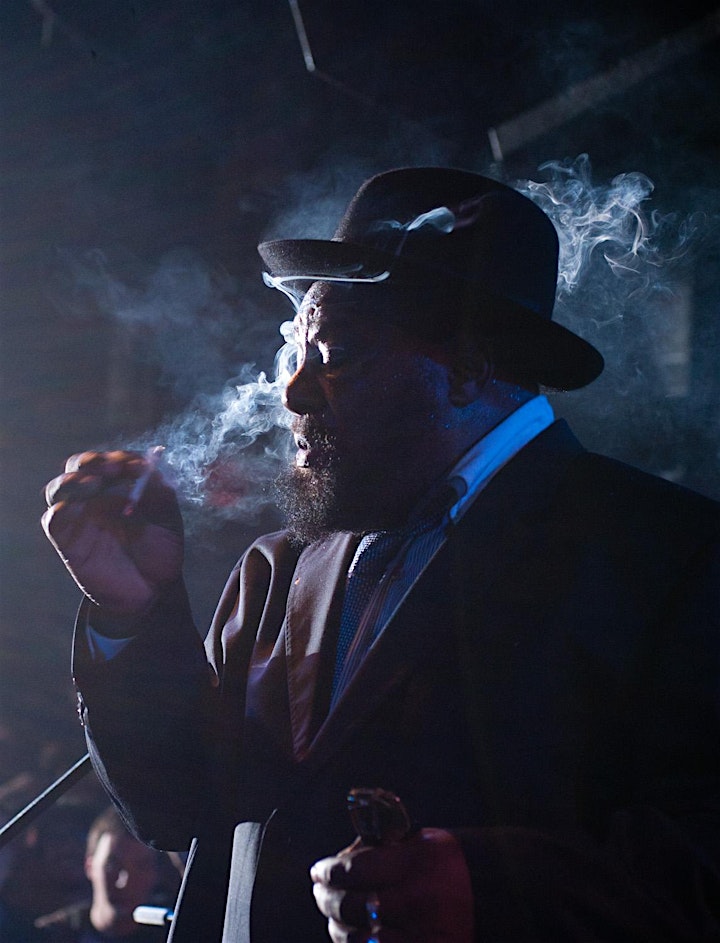 Recording both as Parliament and Funkadelic, George Clinton revolutionized R&B during the '70s, twisting soul music into funk by adding influences from several late-'60s acid heroes: Jimi Hendrix, Frank Zappa, and Sly Stone.
Clinton has received a Grammy, a Dove (gospel) , and an MTV music video awards, and has been recognized by BMI, the NAACP Image Awards, and Motown Alumni Association for lifetime achievement. Clinton's Partliament/Funkadelic was inducted into theRock and Roll Hall of Fame in 1997. In reviewing Clinton's illustrious career and success as a producer / writer/ performer, perhaps his greatest achievement stemmed from his relentless dedication to funk as a musical form. Funk as a musical style had been around for what seems like forever, deeply rooted in the music traditions of New Orleans and the Blues of the Deep South. Following the lead – and commercial success – of James Brown and Sly Stone, Clinton took Funk to new heights, blending elements of Jazz, Rock, Pop, Classical and even Gospel into his productions, eventually developing a unique and easily identifiable style affectionately called "Pfunk." Clinton's inspiration, dedication and determination resulted in the elevation of "funk" music to complete recognition and acceptance as a true genre in and of itself.
On February 16th, 2012 George Clinton added to his list of accomplishments a Honorary Doctorate of Music from the renowed Berklee College of Music.
Along with the renewed notoriety and respect, Clinton's visibility and presence became familiar to a wider audience thanks to appearances in movies "The Night Before", "House Party", "PCU", and "Good Burger", hosting the HBO original series "Cosmic Slop", and doing commercials for Apple computers, Nike, and Rio Mp3 players. Clinton also composed the theme songs for popular TV programs "The Tracey Ulman Show" and "The PJs".
Blu Eye Extinction:
Blu Eye Extinction is a NYC funk fusion band of Hip Hop, rap, rock, jazz and funk. Created by members of the band formerly known as Miss Velvet and The Blue Wolf, their debut album "Tales of A Blu Wolf" was recorded at Dreamland Studios in Hurley, NY. January 2022.
'Waves of Time' marks their first single and video release with a May UK tour with George Clinton and Parliament Funkadelic.
They join the One Nation Under A Groove tour with P Funk June-Aug. 2022.
James Jones: Bass & Vox
Constance Hauman: Keys &Vox
Henry Ott: Guitars
TJ Robinson: Trombone, Percussion & Vox
JS Williams: Trumpet & Vox
Joshua Keitt: Drums
Object Heavy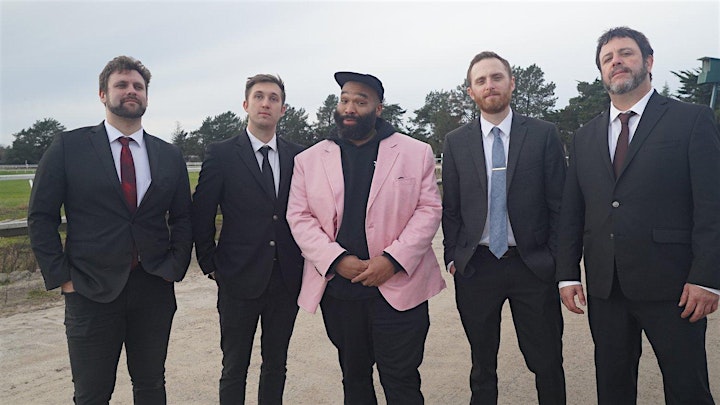 Object Heavy is Northern California's hardest hitting Soul sensation. While based in Arcata, this cast of musical characters has made waves up and down the North Coast of California, the Pacific Northwest, and various parts of the United States, as well as being voted best band in Humboldt, two out of three years nominated.
Fast forward to where Object Heavy has hit the studio, cooked up a new album produced by Kelly Finnigan(Monophonics), showing off their progressive yet soulful sound. This will be released in the coming months of 2022.
With powerhouse vocalist Richard Love at the helm, and backed by Brian Swislow(keys), Leo Plummer(gtr), Ian Taylor(bass), and Sam Kaplan-Good(drums), the band is fully prepared for whatever's next, leading into the future in celebration of their new album, "Love & Gravity".
Object Heavy's magnetic blend of classic Cadillac soul, effortlessly contagious dance grooves, vocal harmonies and blazing musicianship is ripe for a live experience you don't want to miss.